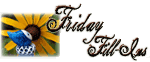 1. I believe whatever doesn't kill you
now sits in your body and will eventually rear its ugly head someday and cause cancer or some other deadly disease
.
2. If you're good at something,
turn it into what you do for a living because it will be the best job you ever have and you will never feel like you are working
.
3. Why so
silly
?
4. Something is out there, it's
obtainable for those that set their minds to it
.
5. If my life were a
sitcom
soap opera, it would be titled
All My Children
.
6. Sitting on my back porch [if you don't have one, use your imagination] I see
our back 40, the alpaca barn, and sometimes I see the alpacas grazing in the back pasture
.
7. And as for the weekend, tonight I'm looking forward to
finishing up a dishcloth design I am doing for a calendar for Breast Cancer Awareness
, tomorrow my plans include
going to a family picnic
and Sunday, I want to
get back into the garden
!